Generally speaking, you are pretty safe on a portaledge. Your ledge is usually fixed to one anchor point, and you are tied into your harness and rope into another point. That way, if the ledge did fall or if the winds flip it (rarely ever happens) or you roll over in your sleep, you will probably need to change your shorts but you will be OK as your lead line catches your fall. You are never off the rope on a wall.
I don't sleep well on a ledge, even if I'm exhausted. The wind moves it a little, it creaks, or my partner rolls over and it shifts...I haven't gotten to the whole "totally cool with this" thing. I usually end up catching cat naps while my partner is on lead (we use automatic belay devices that will catch you if you fall.) Aid climbing leads on big walls can take hours depending on the difficulty.
As far as the poo goes, you can't just let it fly as there may be other teams below you. You pee over the side, but sometimes the wind blows straight UP the wall...lots of handi wipes are key to big wallin.
You poo in a bag with some kitty litter in it, and then stuff it into a "poop tube" which is basically a capped 4in diameter by foot long PVC pipe.
This is a toob and a Big Wall Sponge - you need Mr. Sponge-O when rain and stuff happens to dry out your gear and ledge. You can make anything into a Big Wall anything by adding a clip-in loop. You keep everything on carabiners when you are up there or you lose it. So you have Big Wall bottles, Big Wall phone cases, etc.
A picture of my haul bag - which is called a "Pig" and carries everything that you need - food, water, beer etc. The red bag is my double (2 person) ledge.
Pigs are big, awkward, and heavy as hell. The hardest part is getting all this crud to the base of a climb.
And, here is a picture of me testing my ledge off our third floor balcony when I got it. Neighbor guys thought it was badass lol.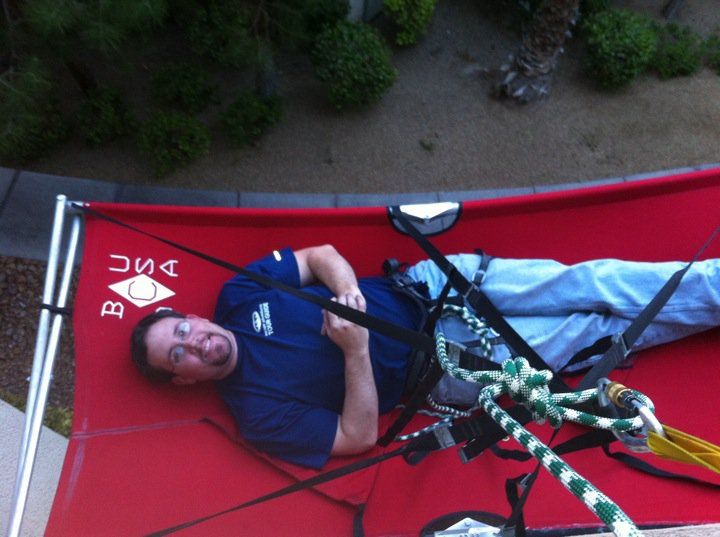 The worst part about aid and big wall climbing is the cost. Sport climbing, all the gear is like $500. Traditional climbing, it goes up to like $1500. Big Wall climbing, and....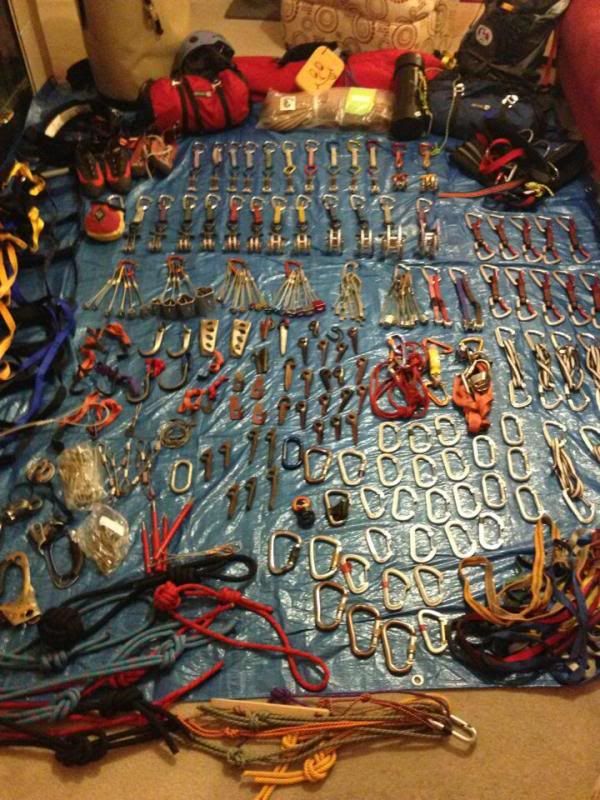 Yeah, my insurance adjuster hates me. Probably about 6k on the floor there, and that's not even all of it. Fun!
But, jamming with your friends in Camp 4 in Yosemite Valley by firelight after a days climbing...priceless.
I have another wall coming up in October, in Zion. Hopefully I will get some new "action" shots, my camera got kinda destroyed on my first one.